Hello!
You might have noticed there's been a bit of a quiet period here on the site. Well, sorry about that. Since the launch of the Supply and Demand Expansion for RPG Tycoon. Chris and I have been working incredibly hard on Living The Deal, our previously announced Game 2! As of the start of 2017, the game is now in full production. We've focused resources off of RPG Tycoon (for the time being, at least) and are now both working incredibly hard on bringing the world of Cedarwood City and Living The Deal to life!
The first thing worth mentioning is that we've changed up the art style since the previous announcement. We've moved away from the 2D hand-drawn art style shown in our teaser/prototype, into a 3D isometric low-poly style instead. The new style still maintains the flat UI design and colour palette of our old style, but offers a lot more room for visual feedback and "niceness" for the player. For instance, each facility building in the game will have its own interior environment – small diorama-like spaces that can be interacted with. (We think it's much more immersive and enjoyable than simple UI Menus!)
Similarly, we've scoped the game up slightly. The life-simulation and social mechanics will take a more prominent role in Living The Deal. As a player, you'll want to interact with the world and the people in it to get the best for your business. Talking to characters, making friendships and building relationships will help you get ahead with your investments. Complete tasks and missions for the various characters you meet in the city and you might gain access to special deals, discounts on improvements or exclusive items. Either way, being a good dealmaker will be much easier of you've got people in the right places.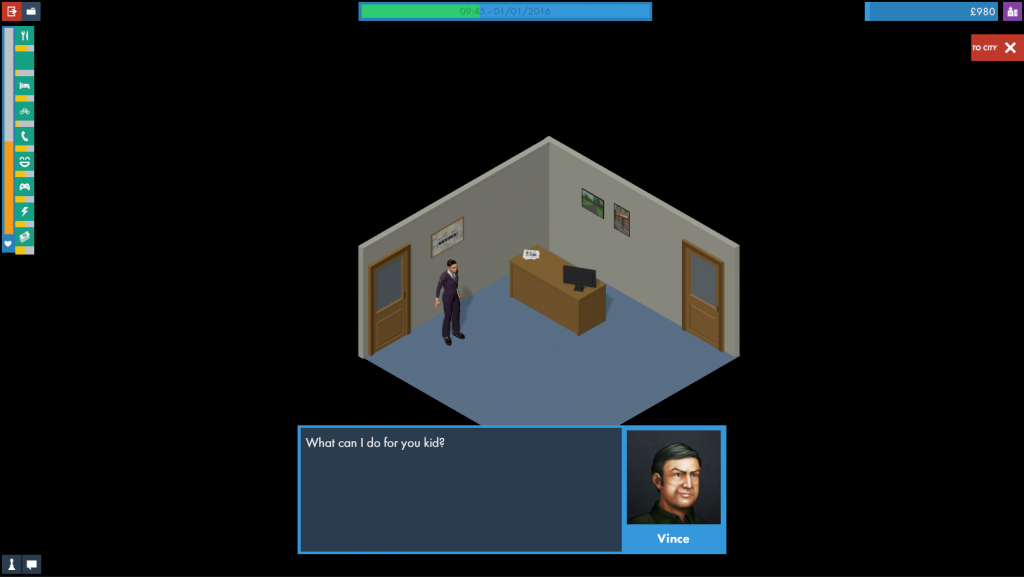 It's still early days for us, so I don't have much more to reveal on the game yet. For the mean time, we've put a placeholder site together. We'll be updating it with new screenshots and videos as development continues.
We're also taking the game to EGX Rezzed at the end of this month. So if you're going, be sure to come and say hi! I'll be there alongside Keaton and Chris from Abyssal Arts. If you're a member of the press and want to know more about the game, or organise an interview don't hesitate to get in touch!
That's all for now. Ideally, I'll keep you posted much more frequently as I'm hoping to start some development updates in video form soon but we've been trying to get the game to a good place to show it off since reworking the prototype. We're nearly there! So watch this space!